I have had a diorama in my head for quite sometime now, and I've been tossing around ideas for different figure manufacturers to meet my vision for the diorama. My plan is to have a small band of elves on a wooded trail that are ambushed by goblins.
Perhaps a little unimaginative but it will be my first endeavor into dioramas, so I wanted to try something that I could easily picture and find the right figures for.
The Diorama is intended as a gift for this Christmas, so I am on a pretty strict timetable to get a lot of painting done.
Well, I got an email from redbox games the other day that Tre Manor(the owner) is liquidating his metal stock to start casting his line in plastic. So everything left in the shop was 40% off, woohoo! After looking pretty extensively over the entire range, I found the figs that seemed to fit just right.
Unfortunately, I went back just yesterday to order a few more and they are all basically gone. Yikes!
The ones I did order came in the mail yesterday, and man, they are awesome! I knew they were on the small side being that they are true 28mm scale, but they are even smaller than I had first thought, which I think, adds a different and cool feeling to them.
the goblins I ordered are by far the smallest of the bunch but now that I see them, it seems much more fitting to have them be tiny. Goblins in general have been getting bigger and bigger over the years, and I think that really goes against the original vision of what they were supposed to be. In my mind, I imagine goblins barely reaching a mans waist.
So, needless to say, I am pleased with the figs.....although, I may have to buy a magnifying glass to paint them.
Heres a few pics to show you what they look like and I went ahead and put a Privateer press man sized fig in there to give you an idea of how tiny they really are.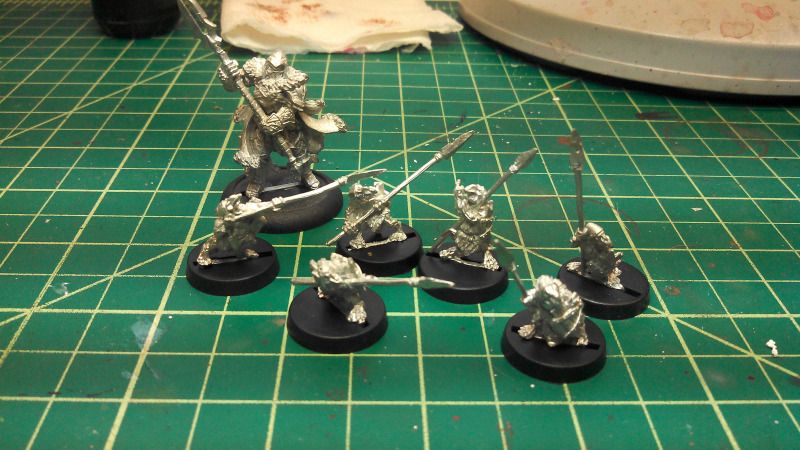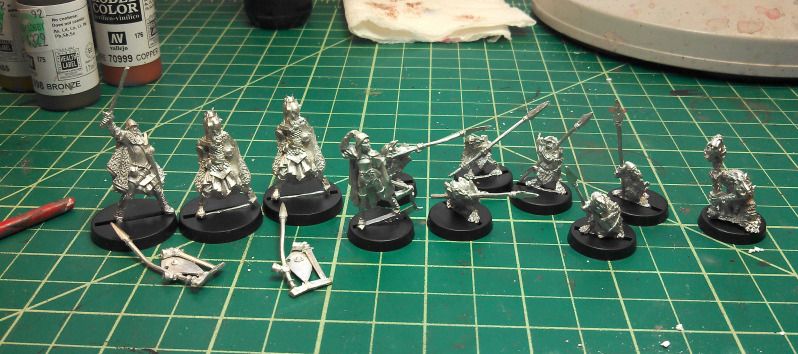 Hers the whole group of figs that will be present in the scene. I think I will have to find a replacement part for the far left elves sword. Was bent pretty bad in shipping and doesn't seem to be salvageable.